Our son Noah has reached a couple of miniature milestones: he's turned over on his own (once, and to great surprise by everyone involved, himself most of all) and he's starting to sit up if we give him a little help. Every time he does when I'm playing with him, we smile and laugh because it's a big deal. If all you'd ever done up to this point was just kind of lie wherever you were until someone moved you, you'd be ecstatic to discover that you have some of your own locomotion! These are great times.
But I don't want to completely sugarcoat parenthood. It's still a tough job, you guys. When we're at our most vulnerable and exhausted, he still needs us. Our peaks and valleys are in direct correlation to his. When he's happy and cooing and doing baby gymnastics while farting in his crib, I can't help but laugh and feel the special pride reserved for new dads. When he doesn't feel good and we can't figure out why, or I'm at home with him on one of those days where he doesn't want to sleep and is constantly fussy, a pit opens up directly into my stomach and everything else in the world fades away. This, I believe, is now part of the job. It's who we've become. We signed up for this, and like the Grinch, our hearts have expanded right on schedule, and we're way past Christmas.
It's a good thing there's a no-return policy on this gift, because the fact is caring for newborns takes quite a toll on parents, and the adjustments we have to make are myriad. Preparing to go anywhere takes an inordinate amount of time and logistical planning. You must be prepared to change a diaper anywhere. If you decide to go run errands on a day home with the baby, you must think long and hard about which stops are really worth it, because you're going to be carrying a minimum of 50 extra pounds worth of gear. I feel like a Navy SEAL sometimes, carrying a freaking boat on my back while running down the beach.
Nah, forget the SEALs. Gina and I may look outwardly calm a lot of the time, but we're really just paddling hard under the surface like scared ducks.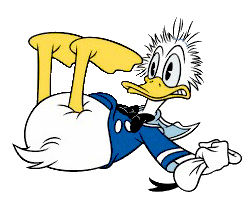 If any other new or prospective father out there ever reads this, I just want them to know what they're up against. There are the highest of highs and the lowest of lows, and while not all of them are instigated by Noah, he is now an integral part of our home, of our family. To be honest, I still sometimes scold myself for not putting my son first when I should, maybe by trying to watch a few more seconds of The Wire before feeding him, or hesitating a few moments before deciding whether that diaper really needs to be changed right away (hint: the answer is always yes).
Maybe this stems from being married and being an adult in the real world for a few years before having a child. We built up a pattern of routines, habits, and hobbies that got disrupted. I was perhaps a little set in my ways, and even though I of course do everything necessary to care for my son, early on I also was trying too hard to keep going on like nothing had changed – when, of course, everything has.
The good news is that I'm learning and getting better about it. I may still be learning how to be a Dad for another eighteen years, but at least I'm willing to learn. And I'm still able to enjoy all my hobbies and old routines, I just have to be more efficient at enjoying them. Gina and I still have a relationship, we just have to rearrange our time spent together around the baby's needs. And I'm beginning to learn that sometimes, it's okay to leave things unfinished for a few more days because the timing just doesn't work out. That can be a hard pill to swallow for a guy who never really ever truly "rested" on my days off and who relishes finishing a project.
Many people tell me to just keep enjoying this time, because it will be over soon. I'm trying to do that, even as I adjust my expectations on what I can get done. I have to, because before too long Noah will be completely mobile, and then the fun will really begin.