As a new parent, I naturally want my child to be good at everything. This is a natural parental reaction for anybody who ultimately sees their children as their meal ticket to a gold-plated retirement. Of course there are people who take it too far – beauty pageant moms that doll up their four-year-olds, or Little League dads who get ejected from ballparks for chewing out the coaches, umps, or whoever's in earshot. While I don't think I'll ever get that bad (I want my son to ultimately choose his own destiny, though I do hope he embraces whatever talents he's been blessed with), I probably have a little bit of that in me. Although, give me a few years and I might be shouting at a referee too.
At every one of Noah's check-ups, the pediatrician hands out these little sheets before we go home. They list the measurements that the nurse took, among other advice and stats, but there are also usually lists of "things your baby should be doing" by that point in time. A typical list might include such milestones as "your baby should be able to lift their head" or "your baby should be cooing and smiling and grasping for things" or even "your baby should already be writing their first computer program YOU HAVE FAILED AS A PARENT." There's something buried in the fine print about how not all babies will exhibit all of the behaviors at the same time, but that might as well be written in invisible ink.
These lists are insidious for several types of parents:
Those that are nervous they're doing something wrong (check! and see above)
Those that are lazy and can never finish to-do lists
Those that are driven to see their child achieve (check! and again, see above)
Two out of three ain't bad.
Wait, yes it is.
So I look at these lists and I instantly blame myself for any skill my son hasn't already begun and mastered. And out of all the lists we've received so far, the dance moves that Noah hasn't displayed yet can mostly be traced back to one thing: tummy time.
If you're not well-versed in the latest child-raising lingo, tummy time is fairly self-explanatory: you're supposed to put your baby on their stomach for several minutes each day so they can build up their core muscles and learn how to push up, look around, roll over, and eventually crawl. It's become an important consideration ever since the early 90's when pediatricians began insisting that babies sleep on their backs to avoid sudden infant death syndrome. (Side note: that is hands-down the scariest, and yet simplest, name for a medical condition ever coined.)
And, as the saying goes, since you have to crawl before you can walk, you might as well say that tummy time is now the most important thing ever for a baby's development. At the very least, the little pediatrician sheets call for ever-increasing amounts of tummy time. Not giving a baby tummy time is to condemn them to a lifetime of having a noodle neck.
It's a cutesy name, this "tummy time." The only problem, and Noah is no exception, is that apparently most babies hate it. Over these first few months of life, our bundle of joy will usually tolerate only a minute or two of tummy goodness before unleashing wails of complete and utter terror and fury, instantly sending waves of guilt throughout the house. We've gone through all of the distraction techniques listed on the most popular baby websites. We usually try laying Noah on the couch so we can be eye level with him without too much contortion, but that only works for a little while. We've mixed it up with toys, brightly-colored objects, and getting him to look at any object within arm's reach (be it a dog bone, an actual dog, fuzzballs from the carpet – the usual favorites). We've tried singing, talking in a soothing voice, and dancing. Nothing can delay the terror for long.
And so there are moments every day where Gina and I have to make a hard call. Do we completely upset our cooing and smiling baby for a few minutes of tummy torture, or do we just let him keep cooing and smiling? I'm a little ashamed to say that, most days, the cooing wins. Who wants to kick that hornets nest, even if every time we delay it I picture every pediatrician in our practice shaming me, scowling and foretelling "your son's going to have a noodle neck… NOODLE NECK!!!"
One day, not long ago, Noah was due for some shots at the end of his checkup. The nurse had us strip him down to his diaper and, for some reason, lay him on his stomach. I remember grimacing and turning my head to Gina, bracing for the maelstrom that was about to occur. I was pretty sure we would be kicked straight out of the doctor's office for having a too-loud baby.
But as the normal screaming threshold elapsed and there was nary a peep from our son, I dared to open my clenched eyes a bit. Noah was not only not screaming, he looked to be actually enjoying tummy time. We could not understand why, until we noticed that he was drooling (a lot) on the paper the nurses put down on the exam table before we arrived in the room. You know the stuff. It's the same kind of paper that rattles like crazy whenever you're trying to be quiet while awkwardly sitting down in your underwear in any doctor's office, waiting to be examined.
Noah was turning this paper into a feast. Or more accurately, he was drooling so much on the paper that the area around his mouth eventually turned into mush and we had to keep moving him around the exam table. It was clear that something about the crinkly noises the paper made, combined with the (no doubt) exotic taste, was keeping him happy despite being on his stomach. This went on for a good fifteen minutes, even while the nurse and doctor finished everything they needed to do.
Naturally, I began wondering if we could steal a roll of the exam table paper. Thinking better of it, I then wondered if we would be able to recreate the results. For one reason or another (parental amnesia), we didn't even try at home for a long time, until this week. Faced with the reality that we needed to try tummy time again, a worn-out synapse in my brain finally fired up and reminded me of this miraculous doctor's office cure.
I rushed to the kitchen, pulled out a sheet of wax paper, and ran back to slide the paper under our son. And, wouldn't you know, it worked. Twelve minutes of uninterrupted tummy time and one soggy sheet of wax paper later, everyone was relaxing.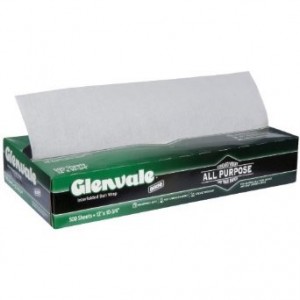 Is this the answer to life's problems? No. Is it going to save Noah from having a noodle neck? Maybe. But thanks to this discovery, we no longer dread tummy time quite as much. We still need to get in a routine of doing it more often, but at least it appears we have enough of a distraction to make it work.
And you read it here first, but I'm thinking about buying up a bunch of wax paper, re-packaging it, and selling it as a baby product. "Crinkle Sheets" or something like that. There's a market for it, I guarantee you.